Stop Stuggling Trying To Write Profitable eBooks!
If YOU Want To Learn How To Make $1000s A Month Selling ONLY Digital Products, Then This Will Be One Of The Most Important eBooks You'll Ever Read...
Written by Aaron Danker - Internet Marketer And eBook Author
Dear Friend,
I would not have believed it if I hadn't done it for myself.
You can actually write an eBook without the costs in having to produce a hard cover book. What's better is that eBooks often sell for the same price that a traditional, hold-it-in-your-hand, book would sell for!
Not only that but if you do it right, you can automate everything so you're earning money round-the-clock even whilst you sleep!
Let me tell you a little about my story..
As the Internet began taking over the world, dollar signs flashed almost constantly in the back of my mind. I did some research to see who was making money from this evolution. I ran across import companies, search engines, website development / hosting companies, and auction sites. That was over a year ago.
Now, more than ever, the Internet is starting to define business. People are actually paying for and downloading songs for their listening pleasure.
People are researching, planning, and booking entire vacations online. People who love information are inhaling the Internet. Information is everywhere.
Of course that presents a bit of a dilemma..
Information overload!
Part of the problem with researching the Internet is the information you glean during your surfing is highly if not completely unorganized.
Do a Google search. You notice there are thousands of pages relevant to your search terms. So, you narrow your search by adding a word or two. Now you're down to several hundred pages. And you start clicking on them, one after the other.
You really don't know what exactly you're going to get or whether or not the source is reliable. So, the Internet is like a feast with some of the options being spoiled. Yuck! But the buffet is intriguing, so most of us tend to return to try our luck again and again.
Anyway, all this got me to thinking..
What about eBooks?
Yeah, sure, you can read Charles Dickens on a computer, but I'm talking about eBooks that teach, in a non-fiction sort of way. If I could put a few good eBooks on the web, then maybe people who wanted to learn about a topic could read an entire book from a reputable source online.
So I tried it. And guess what?..
At first I didn't have much success. But I dusted myself off, studied, tried again, tried again, and tried again. Eventually, through trial and error mostly..
I FINALLY stumbled on a formula that worked!
Yes I finally had the answer! Then more I repeated this process, the more it started to make sense.. and the more eBooks I started churning out!
Just like anything else, the more you practice it the more you perfect it. Someone once said it takes 1000 hours to become an expert at a skill and 10000 hours to master it. How much time do YOU have?
I'm sure you don't want to spent 1000s of hours of your time trying to 'jump the hurdle' which is why this manual was created just for YOU.
You see I'm at the point now where whenever I want to add another income stream to my bank account I simply add another eBook to my portfolio. I can confidently walk into ANY niche, do a little digging around, structure my eBook, and turn it into a marketable product!
..And now I'm going to share this formula with YOU!
My first successful eBook was born well after all the struggling, but I think it's high time I share my experience.
You will be getting months and months of my knowledge, tested methods, trials and errors with only the best kept secrets inside and condensed in into one manual. It gives you the exact same formula that I'm using to rake in $1000s a month selling only digital products.

I've condensed all the information into a logical 40 page eBook so you can follow me every step of the way.
Here's a sneak preview of what's inside..

How To Select Your Niche - You will learn how to research your niche and find out how to make your product successful.



How To Find Out Exactly What People Want - You will learn the deep underground tactics on how I model my eBook every time.

Knowing Where The Money Is - You will avoid the costly mistake of 'marketing blindly!' You will know exactly which niche are proven to be profitable and which are worth pursuing. This will make your efforts all worthwhile.


What Format Your eBook Should Be In - I will discuss with you what formats are available for your eBook, the pros and cons of each format and which software I use to create my eBooks even without the need for a word application.



How To Make Your Product Sell - 95% of eBook authors give up when they don't see any sales coming through. You will learn why this is, how you will avoid it yourself and how to get visitors hugry for your product even before they've seen what it looks like! As an extra bonus you will be able to use a real sales template that you can implement on your own sales page straight away!



How To Package Your Digital Product - 50% of your project is in the eBook itself. The other 50% is in the presentation but not everyone understands this. You will not succeed unless you follow these instructions on packaging your virtual product.



How To Set Up Your Shop! - So you think you're ready? What about all those 'technical roadblocks' that stop you from going further? I will show you everything you need to know about setting up your business ready to start collecting payments.

What Tools I'm Using - I'm going to tell you exactly what I'm using to automate the system and which tools I'm using day in and day out to make my life easier. After all, isn't that what 'making money' on the internet should be all about? ;)



How To Attract Customers To Your Website - All you work will be absolutely useless unless you know exactly how to promote your product. This is where most eBook authors through in the towel because they just don't know how to get the customers they need!



Where You Should Be Submitting Your eBook To - Another big mistake is waiting for something to happen! I will show you exactly where you should be distributing content for your eBook to bring you customers even years from now!
Ok, so now you need to make a decision..
Do you want to write your eBook by yourself and maybe get a trickle of sales from a half-baked product or do you want an agressive avalanche of sales coming in at all directions around-the-clock?
Don't waste anymore time with trial and error! In front of you is the eBook that will show you exactly where the money is and how to squeeze as much profit from every niche as possible!

Order Your Copy Now!
You Will Not Be Disappointed!
Free Shipping Worldwide On CD-ROM!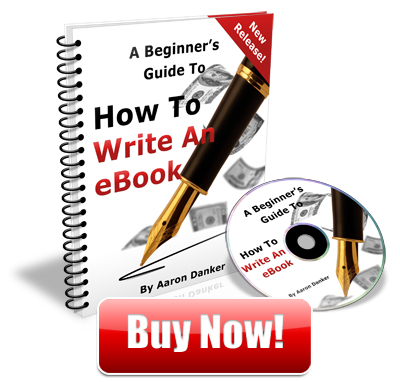 Only $29.95
Your Price $4.95!
Hurry Sale Ends Soon!
P.S. You have a 60 day money back guarantee on this! Not happy with the information? Just contact us and we'll send you a prompt refund! You don't even have to send the CD-ROM back to us!
P.P.S You could literally be spending weeks, months even years getting it right. It's very painful for me to watch you do this which is why I've created this 40 page concise guide for you.
P.P.P.S And don't worry about market saturation! There's PLENTY of room on the Internet for everyone to start making money! This knowledge can be applied and practiced in ANY niche.. so grab your copy NOW and I'll see you on the other side!